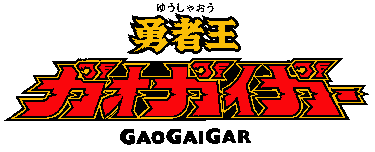 Brave king gaogaigar
GUTSY GEO GUARD

LION KING: CYBORG GUY
Guy was a space shuttle pilot when his ship was damaged during a battle with the Galeon fighter and the Zondar ship EI-01. Rescued by Galeon, he was brought to Terra where GGG scientists reconstructed him into Cyborg Guy.
On his own, he is formidiable. He has super-human strength, speed, and agility. His only weapon is the Wind Knife, but he has the ability to super charge his system and become Hyper Guy, but the power only lasts for a few minutes.
His energy comes from the G-Stone that is part of the Gao-Brace, which he also uses to contact Galeon.
Also, he can merge with the Galeon with the Fusion process and become Gaigar, the core unit in GaoGaiGar.
His girl friend is Mikoto Utsugi, GaoGaiGar systems monitor.

MAMORU AMAMI
Mamoru is a Mesia (a farie like creature) who is a secret member of GGG. He arrived on Terra as an infant by the Galeon unit. He was taken in by Isamu and Ai Amami, and raised as their own. Mamoru remained unaware of his orgins until the apperance of EI-02. From that point on, he began to work for GGG.
Mamoru has the ability to recharge G-Stones, sence an impending Zondar attack, and free Zondar slaves.
He likes Hanna, a girl in his class.
GO TO NEXT ONE!