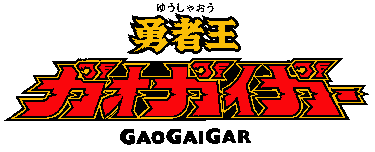 Brave king gaogaigar
GUTSY GEO GUARD

LEO SHISHIO
Leo Shishio is chief scientist of GGG Science branch. He was one of the developers of the G-Stone bases technology, and helped to create the sentient G-Mechs.

KOSUKE ENTOJI
Kosuke Entoji is the chief computer programer for GGG.

GEKI HYUMA
Geki Hyuma is Field Operations officer. His primary mission is to lead the combat forces on-site.
KAZUO OSHIYAMA
Kazu Oshiyama is Baytower operations officer. His brother goes to school with Mamoru.
GO TO NEXT ONE!